By Vishal Gutka 
So far in the fight against COVID-19, mankind is playing defensive by maintaining social distancing norms, wearing masks, and adopting best-in-class personal hygiene practices. Since an offensive in the form of vaccines seems like a possible but distant event, better hygiene is likely to be a go-to strategy for now. In this light, the GV team to conduct ground-level checks to understand how Indians have adjusted to this new way of life in terms of adopting better sanitary practices. Historically, India has lagged the world in adopting best hygiene practices, which in turn slowed the growth of its personal wash industry. Could the Covid-19 pandemic be the architect of a sustained change in consumer habits in India and be the required catalyst for growth acceleration in the personal-wash segment?
To provide answers, analysts Vishal Gutka and Preeyam Tolia have dived into the sudsy world of soaps and interacted with a wide variety of stakeholders in the personal wash industry – from customers, soap manufacturers, distributors and dermatologist to marketing executives. The duo got to the bottom of a variety of trends – such as why premiumisation from toilet soap to beauty bars is slower than anticipated the real value propositions of premium soaps and where these were failing, the impact of bundle packs, the effect of modern trade, limited availability of water, regional trends and many more. The analysts also looked at why liquid soaps and body washes haven't taken off in India despite being a prominent form of skin cleansing in the developed world.
This issue of Ground View enters the technical aspects of soaps manufacturing, the difference between toilet and beauty soaps, what role TFM content plays, and whether liquid soaps are actually better than the humble soap bar. It also touches on why HUL has lost meaningful market share over the past two decades despite having the best resources at its disposal to combat any competitive challenge. It looks at what incumbent challenger brands (Godrej, Santoor, and Dettol) are up to, and what they did differently that allowed them to grab significant share in this highly competitive industry, despite their late entry.
This edition also looks at how new players ITC, Nivea, Himalaya and Patanjali have been doing and how they were able to carve out a niche for themselves over the past decade based on their differentiated proposition. The Covid-19 pandemic has led to the resurgence of the personal wash industry and provided required tailwinds for faster adoption of premium categories, handwashes, and sanitizers – which were seeing slower growth in the past despite years of advertisement campaigns.
All in all, it seems like the segment is a wonderland for FMCG companies that offer the right value proposition, understand consumer trends and preferences, innovate quickly in terms of formulation and formats, develop products that require lesser water, and strengthen their moat around distribution networks, allowing them to deepen their reach.
A fiercely competitive landscape
The deceptively simple looking industry is layered, complicated, and very price sensitive Structure of India's personal wash industry
India's personal wash industry, which stands at Rs 200-220bn, can be broadly classified into four segments: bar soaps (88%), body/liquid washes (5%), hand washes (5%) and hand sanitizers (3%). Among these, bar soaps is the oldest category, and continues to command a lion's share of the personal wash industry. The other three are relatively new kids on the block. Of these, sanitizers and handwashes, although new, are growing fast, post covid.
The bathing soaps market, highly-penetrated, sees fierce competition
Soap bars is a highly penetrated category in India, with the sales split slightly skewed towards urban areas at 60%. Premium soap bars (skin protection), liquid bodywash, handwash, and sanitisers remain more urban-centric categories. In rural areas, premium soap bars are sold in low unit packs of Rs 10, mainly purchased during special occasions such as marriages and festivals.
The importance of personal hygiene among people received a shot in the arm via the Swachh Bharat Mission (SBM) campaign, which PM Modi started in 2014. As per estimates, the Indian government spent nearly Rs 40bn under SBM towards education and communication to promote personal hygiene, but the real boost in behavioural change has taken place after the Covid-19 outbreak. Nowadays people are taking extreme care to avoid getting infected by maintaining high standards of personal hygiene (washing hands, using sanitisers, having more baths than usual).
A brief history of soaps in India
In the olden days, before the advent of modern soaps, natural ingredients used to serve the purpose of cleansing. Evidence from our age-old literature shows that women used natural products such as Multani mitti (fuller's earth), gram-flour, curd, milk, buttermilk, honey, rose water, fruit juices and pulps, floral ittars (oil-based perfumes) and essential oils to maintain hygiene and keep their skin healthy.
In India, the first modern soap was introduced by the company Lever Brothers when it began importing soaps into India, while the first soap factory in the country was set up by North West Soap Company in Meerut, Uttar Pradesh, in 1897. It manufactured cold-process soaps. During World War 1 (1914-1918), the soap industry in India went through difficult times. Then in 1918, Mr Jamsetji Tata set up India's first indigenous soap manufacturing unit when he purchased OK Coconut Oil Mills. OK M ills not only crushed coconuts for manufacturing coconut oil, but also manufactured cold-process laundry soap for local markets. When the oil mills were renamed Tata Oil Mills, Tata launched its first branded soap in the early 1930s (OK Soap). The soap was such a hit that it took away HUL Lifebuoy's market share in its initial days. As the industry flourished and the popularity of soaps increased with the middle-class, more and more companies started entering into the soap industry – Mysore Sandal in 1916, GCPL in 1918, and Wipro in 1985.
FMCG industry classification of soaps
The Bureau of Indian standards (BIS) classifies soaps into two categories: However, FMCG companies look at the industry differently. According to them, the Indian soaps market is divided into the following four categories:
India's soap makers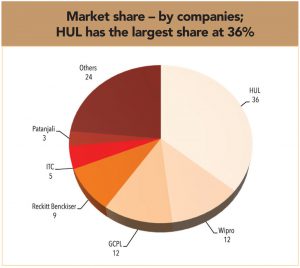 HUL is the biggest company in the Indian soaps industry with a commanding market share of c.36%. Its key brands Lifebuoy, Lux, Dove and Pears command a major share, but in recent times, due to the trend of moving towards natural products (naturals) and increased aggression from other large/regional incumbents, HUL has taken some hits. Wipro (Santoor) and Patanjali are the biggest beneficiaries of the naturals trend in the soap industry while GCPL (Godrej No.1) gained traction because of the regionalisation strategy.
GCPL entered the soap business in 1918, with the launch of India's first toilet soap (Chavi bar soap) from vegetable oils. Until then, soap was made from imported animal fat. Later in 1919, it launched Godrej No. 2 and in 1922 Godrej No. 1. Ardeshir Godrej, the promoter, explained the reason for launching No. 2 first: "If people find No. 2 so good, they will believe No.1 to be even better!". GCPL launched the original Cinthol in 1952, called 'Cinthol Deodorant and Complexion Soap' (red). Much later in 1999, Godrej launched its Fair Glow soap.
Naturals and ayurvedic has dominated the narrative for the last few years
Wipro launched Santoor in 1986. Since then, it has consistently focused on the proposition of beauty and younger looking skin; this, along with regional focus, has led to significant market-share gains for the company.
Leading soap brands
While HUL's Lifebuoy was the highest selling soap brand, it has been losing share for the last four years or so. Recently, Wipro's Santoor overtook Lifebuoy's market share. In 2019, Santoor had overtaken Lux's market share to become #2. Other top-selling soap brands include Godrej No. 1, Dettol, and Cinthol.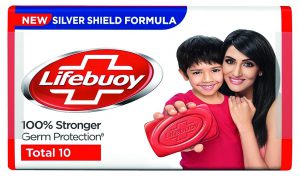 Vineet Agrawal, CEO of Wipro Consumer Care, talked about Santoor to the media – "It was launched in Delhi, possibly the worst time to launch, says Agrawal, since usage drops during winter. The most preferred time to launch a bathing soap is summer since its freshness can easily be positioned against dirt and sweat. Markets in North India are value driven. That meant Lifebuoy, Breeze and Nirma worked well. Down South, benefit-driven soaps work well. The North Indian consumer tends to go for value-for-money brands such as Godrej No 1, Lifebuoy, Breeze or Nirma. This could be related to the low literacy rate in women and the income profile of households."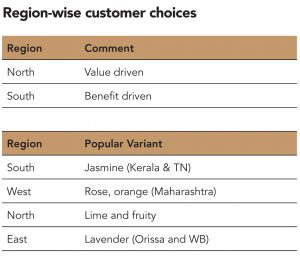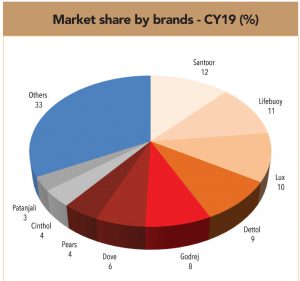 Harikumar Jha, Managing Director, KSDL (producer of Mysore Sandal soaps) said, "Our research revealed that some regions had cultural significance attached to fragrances and in other cases, the perfumes were popular in these regions. We shortlisted five fragrances from five regions of the country to launch our popular soaps". For instance, their market research revealed that jasmine perfume was popular in south India, especially in Kerala and Tamil Nadu. In western India it's rose, while the north Indian market prefers lime and fruity flora. Orange was the popular choice in Maharashtra and lavender in Orissa and Bengal.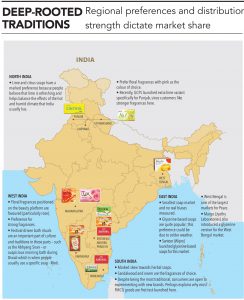 Soap manufacturing is all about TFM
The bar-soap market, which is around 90% of the overall personal wash market, can be split into toilet and beauty soaps. The primary quality of a soap depends on its Total Fatty Matter (TFM), which lends the 'soapy' feel. TFM and insoluble matter largely distinguish toilet soaps from beauty soaps; in short, formulation and function differentiate soaps from one another. Toilet soaps contain higher amount of fatty matter (vegetable fats) vs. beauty soaps, which helps them to provide better cleansing properties, while beauty soaps contain more additives (milk, glycerine, etc.) which helps to protect skin from dryness and dullness, especially in cold climates. BIS has standardised TFM, and categorised toilet soaps into Grade 1 (TFM > 76%), Grade 2 (TFM 70-76%), and Grade 3 (60-70%). Higher the TFM content in the soap, better is the skin-cleansing property. Lower TFM toilet soaps tend to have higher fillers such as talcum, chalk, and borax.
TFM and insoluble matter largely distinguish toilet soaps from beauty soaps; in short, formulation and function differentiate soaps from one another
TFM and skin
Toilet soaps: The amount of TFM in the soap makes up its cleansing quality. Higher the TFM content in the toilet soap, better is the quality of soap leaving skin deeply-cleansed, by removing dirt, germs and bacteria. Since higher grade soaps have less fillers, their cleansing function is better. However, toilet soaps with high TFM can sometimes dry up skin, if their pH levels are too high. They generally last longer than beauty soaps. LUX, Lifebuoy, Godrej No.1, Santoor, etc., are examples of toilet soaps.
Beauty soaps: These are 'special' soaps that contain higher additives such as glycerine or milk extracts. They have lesser TFM at maybe 40-50%, but usually contain acceptable surface active agents for bathing, perfume, and other ingredients such as super-fatting agents, processing aids, colouring matter, permitted antioxidants, preservatives, permissible germicides, and additional substances that are declared on the label. Dove, Pears, Fiama Di Wills, are examples of beauty soaps.
The toilet soap TFM paradox
Indian soaps companies never market soaps based on Bureau of Indian Standards grades. Rather, they deploy different marketing plans to drive growth. As a result, highly marketed but lower grade soaps such as Dettol (Grade 3 – recently changed to Grade 1) and Santoor (Grade 2) are perceived by consumers to be of better quality (in terms of cleansing) vs. soaps that fall into Grade 1 (such as Godrej No.1, Cinthol). When it comes to selling soaps, high-decibel media campaigns (run over years) to back a particular differentiated consumer proposition determine soap sales, not the soap grade.